21 Apr

Kauai Market Report – 1st Quarter 2021
Homes
The median price for a house on the Garden Island which hit a million dollars in January remained so at the end of the first quarter .   The distribution of sales by price point remains about the same and in correlation with the median price.  About half the sales were under a million  dollars and the other half over a million dollars.  The same is true with pending sales as of mid April with the number of homes in escrow under a million dollars consisting of 51% and the homes listed over a million dollars at 49% of total under contract.  The most significant shift is in active listings.  By the end of the first quarter, homes priced under one million dollars represented only 17% of the active listings with 83% of the inventory listed for over a million dollars.   This is compared to 21% under a million and 79% over a million earlier in the year.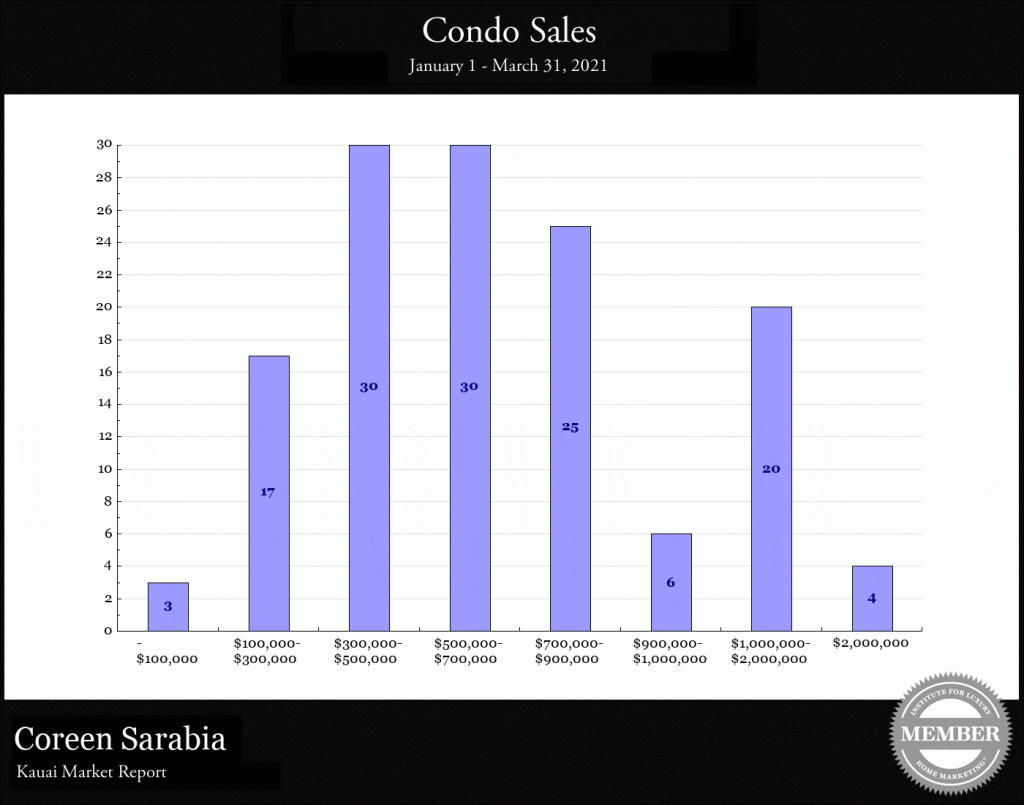 Condominiums
Condominium units sold and dollar volume has increased by more than 50% over the first quarter of 2020. However, the median price remained virtually unchanged from $619,000 in 2020 to $620,000 at the end of March 2021.   Forty four percent of the sales sold for between $300,000 and $700,000 which includes resident type and resort condos.   In the under $100,000 price point, one project is nearly solely responsible for the pending sales, listings and 1st quarter sales.  Kiahuna Planation in Poipu is a leasehold project that dominants this section of the market with low sales prices.  It appears to be attractive to many buyers despite significant fees that accompany ownership of these condos.  The next range of between $100,000 to $300,000 is represented by closings at Kauai Beach Resort & Islander on the Beach, both converted hotel room type units, Plantation Hale in Waipouli and Sun Village, another leasehold project. The majority of condo sales above $300,000 are within the Visitor Destination Areas of Poipu, Wailua and Princeville.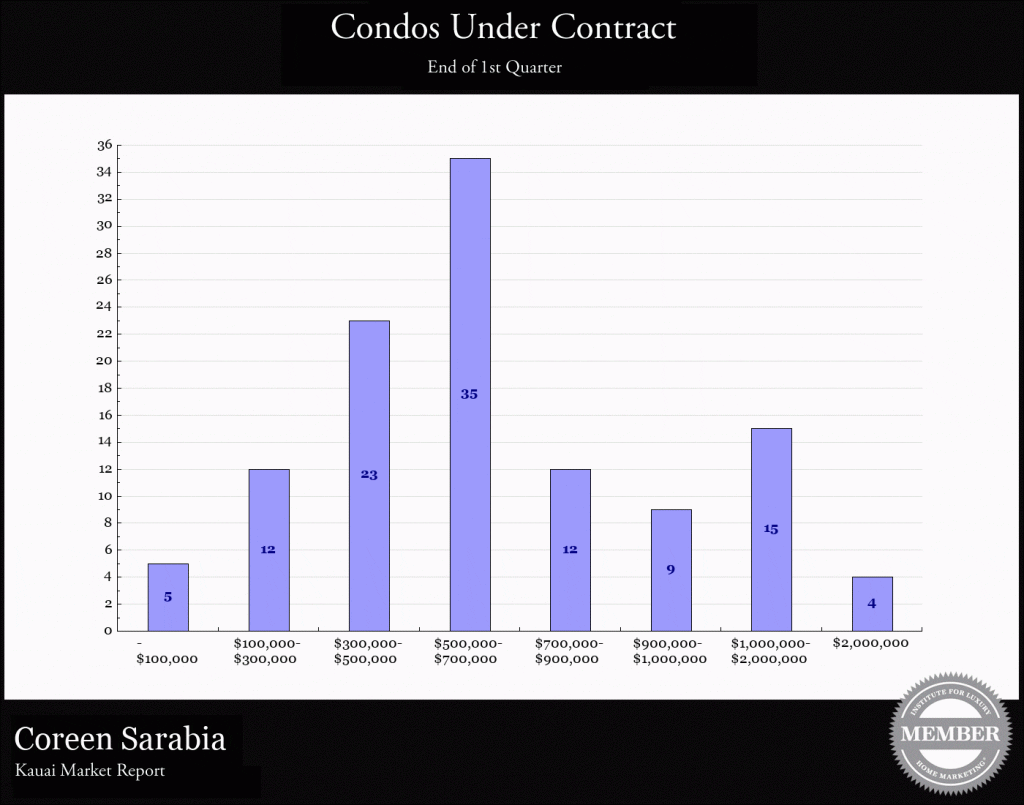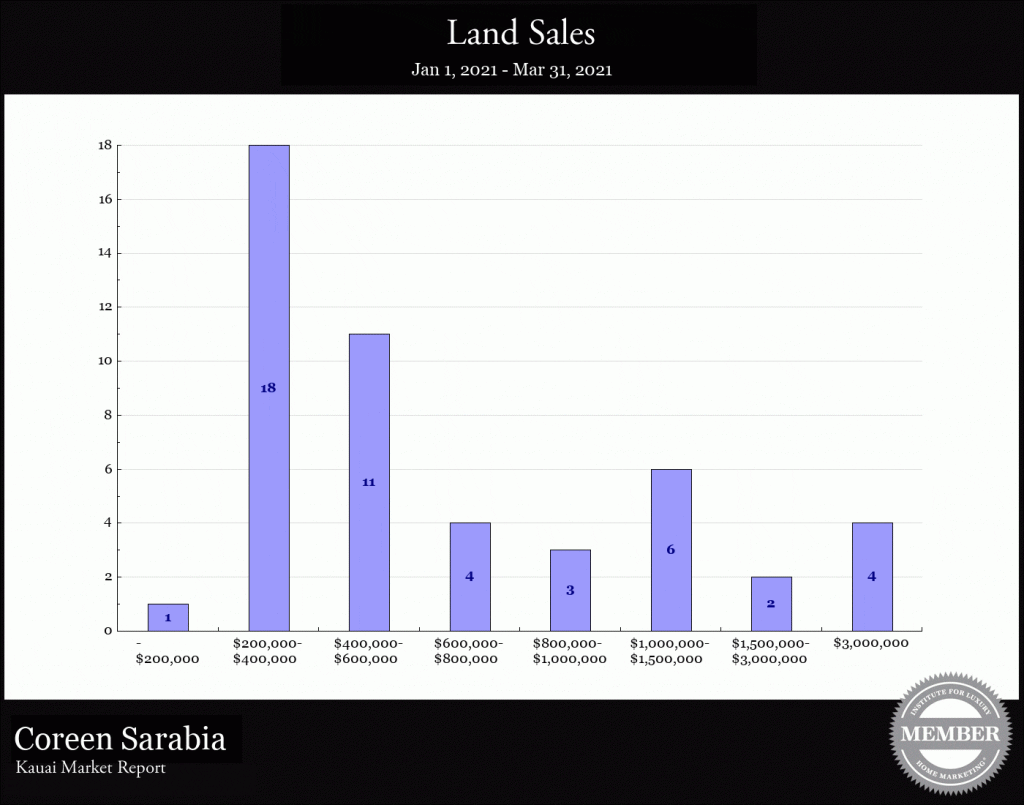 Land
The south shore dominated land sales in the first quarter of 2021.  In part dollar volume was boasted by one 13 acres bulk sale of a 10 lot subdivision for $15,000,000, however, a closer look reveals that there is quite a bit of activity at a high end Poipu development.   While 39% of land sales across the island were for prices up to $400,000,  33% of sales above $400,000 occurred within Kukuiula.   Vacant land sales here ranged from $525,000 to $4,950,000.   Year to date first quarter number of units sold and dollar volume reported a whooping 367% and 771% increase respectively.
Could the fact that Kukuiula falls into an opportunity zone be the reason for this activity?  Created as part of the 2017 Tax Cuts and Jobs Act, Opportunity Zones are designated economically disadvantaged areas that can offer powerful tax incentive to investors willing to deploy capital in them.  Kukuiula certainly does not fit the description of a  "disadvantaged" area, however, it falls within a certain population census tract and thus is within an Opportunity Zone.  Whatever the motivation, land sales at this Poipu location appears to be a hot item.
The first three months will be the only quarter of 2021 where numbers can be compared to the previous "normal" year.  Starting in April, our statistics will be comparing our current extremely active market to 2020 market that experienced,  for the first time in modern history, a world wide pandemic.